How to mint an NFT
If you are worried about how to mint an NFT, this should no longer be an issue since the market has provided us with so many options, consider it a "one-click service". This is exactly what we were aiming to replicate in our NFT Builder:
First, link your wallet to our platform. Go to the right top of the page and click "Link Wallet". Simply follow the instructions of the software afterwards.

Once you have created your NFT or NFT Collection and made sure they are on the platform, hit the "Mint NFT" button and choose from the dropdown menu of minting options.

The platform will then ask you to sign the transaction. Once you do, the process will automatically start.
Our NFT Minting Services
NFTBuilder allows users, artists, and all creators to easily create freshly minted NFTs.
Mint an NFT
Upload an image or music file and hit the Mint button to create an NFT! We will store it on the blockchain, giving you the choice to pick from our minting options. Choose the fastest minting, which is a little pricier, or select the lower-priced, but slower NFT minting process.
Mint with Your Own Temp
"How long does it take to mint an NFT?" The process can take anywhere from a few minutes to several days, in direct relation to gas fees and volume of requests. If you are not in a rush, NFTBuilder even gives you the option to pick a price range and we begin minting only when gas fees hit this target. NFTBuilder also has a gas fee gauge so you can pick the right time for you.
Mint On Any Blockchain
Pick which blockchain you want to use to mint your NFT. Choose from Ethereum, Tron, Wax, Polygon, Klaytn, and more. You will be able to choose from a list of marketplaces that support the specific blockchain.
Follow the NFT Minting Process
Each user can trace the whole process from start to end with our NFT mint schedule calendar. See what percentage of the NFT is minted, how fast it's going and the estimated finish time.
During the minting process, the user can keep the NFT hidden so as to have the opportunity to buy the newly created NFT directly from the platform before anyone else gets the chance. You will get a notification when your new NFT is ready!
What NFTs Can You Mint
Any kind of music, art, pictures, photos, sculptures, or even real estate - anything that exists can be minted as an NFT. Our platform allows you to easily upload your song, picture or GIF and mint it as an NFT. You just have to pay gas fees for your NFTs to be transferred, we take care of the coding and smart contracts.
So mint your NFTs today to start earning money on the marketplace!
Sell Your NFT Quick and Easy with Us
Our marketplace ranking will grant you access to the top NFT tools and give you a head start to the secrets of how to make money with NFTs. We'll show you the ropes on how to mint an NFT, how to use an NFT builder or even how to create NFT art! Be among the first to ride the wave of the hot NFT trend and become rich by promoting virtual merch on NFT marketplaces or by investing in digital NFT assets.
How to Collect UPCOMING NFT Drops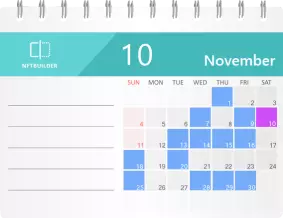 A major feature of NFT Builder is our "Upcoming NFT Drops" section. This NFT game is no longer about how to mint an NFT but how to get even more benefits out of it:
As a member of our community, you will have the opportunity to witness the "minting time" of all upcoming NFT mints in order to spot the NFTs that you would like to add to your collection. Imagine a factory with walls made of glass that's so clean and beautiful that everyone sees the magic happening inside. Our "Observe NFT Drops LIVE" is exactly this. We provide you with the opportunity to buy in advance and be included in the process. We did this because we know how the visionary brain works. Its all about "Observing your future gain" and we are here to open the doors. Cool, right? We know!
Our Team
Our team is dedicated to providing the best solutions for NFT creation and management. Using our competence and experience, we have created the NFT builder which we have built to try and suit your needs with all the functions possible. Trust our specialists and try our platform today!
Frequently Asked Questions
Take a look at the frequently asked questions about NFT builder:
🕐 How long does it take to mint an NFT?
The process of minting an NFT may take from less than a minute to many hours, depending on the platfrom and the size of your files. We are glad to guide you to the best NFT builders to suit your minting volumes.
💸 How much does it cost to create an NFT?
The cost of minting or creating a non-fungible token can vary greatly in this volatile market. However, there are NFT wallets which offer free minting. Cost of minting is one of the key factors to consider when choosing your NFT builder, along with credibility, adoption and ease of use.
❓ Can I Mint an NFT without selling it?
If you are minting an artwork which is not your creation, you must respect intellectual property (IP) regulations. The same holds true if you are part of collective authorship behind the artwork. If you aren't sure about ownership we advise you to consult an intellectual property attorney before starting to mint your NFT.
NFTs find top fans and buyers in plenty of NFT marketplaces. Depending on the actual item you are minting, you may decide to position your NFT in a themed marketplace, e.g. a marketplace dedicated to digital animation art. Of course, you need to cover all the basics too, such as correct pricing, visibility and perceived quality.
⚙️ What is the Process for Minting NFT?
The process of minting NFTs may seem complicated for non-technical people, but it really is no more complex than completing an order at an e-commerce store. The hardest part of the minting process is determining what item you'd like to turn into an NFT! Then simply follow our steps above.
🌳 Aren't NFTs bad for the environment?
NFTs are definitely a detriment to the environment with their large power consumption. There is evidence that they rank among the top contributors to emissions in certain areas. However, technologies are already being invested in to curb the negative impact. For now, you can request carbon offsetting and many designers have built this into their projects.
Contact us
The team behind NFT builder works daily to improve on what we do. We would love to hear from you if you would like to see something new on our website. You can always contact us, and we'll get back to you soon.
Contact Us Here!